Employee Spotlight: USI Regional Recruiting Manager, Sean Vimini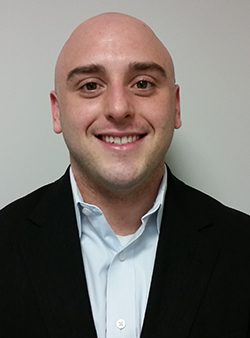 March 21, 2017
This month we shine the United Security Inc. spotlight on Regional Recruiting Manager, Sean Vimini. Sean plays an interesting role for USI. He may not have face-to-face client interaction, but his work with USI account teams make him an expert in knowing every detail of our client needs. Sean is active mainly on our Security Officer services side of the business. If you have met Sean you would know he is high energy, focused and always working. His desire to find, attract and research who may be the best USI candidates is not restricted to a 9 to 5 schedule. His flexibility for early breakfast, late Starbucks, or weekend job fairs is a small example of how Sean makes himself available to job searchers. Sean's behind the scenes work is an embodiment of our company tagline "We service our clients best, when we serve our employees first." Sean's work with candidates is step 1 of serving our employees first so that they are over prepared for their roles at USI. Sean works diligently with ownership and account teams to always be looking 3 months down road at potential recruiting needs. At the same time his biggest strength may be his overall team attitude and desire to succeed on behalf of USI clients.
Below is some additional information about Sean Vimini:
College: Proud Fairfield University graduate
Hobbies: Golf, Networking, Indoor Soccer enthusiast, Artist, Writer
Business Affiliations: ASIS Member
Volunteer Work: He has worked with Cardinal Sheehan Center in Bridgeport, CT
Before USI: Sean worked on the agency side of corporate recruiting
For 25 years USI account teams have worked with our clients understanding their security needs, and delivering on a promise of quality security officers. Not many clients have met Sean Vimini, but it is safe to assume that he understands the unique details that a client may have requested or demands for their security officers.
---