Government Security Services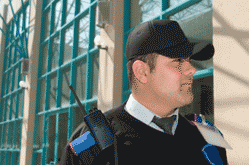 United Security Inc. (USI) Government Security Services Division has been a leading provider of armed and unarmed security personnel to federal government agencies utilizing the General Services Administration (GSA) Federal Supply Services Schedule (schedule #GSO7F0071N) for more than 20 years including partnering with:
Department of Homeland Security
Federal Bureau of Prisons
Federal Protective Services (FPS)
U.S. Customs and Border Protection
U.S. Marshals Service
Our proven approach provides clients with consistent quality service with the flexibility to meet and exceed client expectations despite fluctuations in requirements and evolving challenges. USI's strict selection, training and compliance program ensures government agencies that we consistently have properly trained prepared security personnel available to support their requirements and address their risks.
USI Government Security Services Divisions provides:
Access and perimeter control
Visitor monitoring and screening
Fixed post and mobile patrols
Command Control Center operations
Executive Protection Security