United Security Officers Working at CT Department of Motor Vehicles Receive Accolades for Their Work
September 30, 2021
A trip to the Department of Motor Vehicles (DMV) can be met with concern, and uncertainty. Usually that has to do with making sure you have the correct paperwork completed. As many of us know, sometimes we each need assistance navigating the process within the local DMV location. The USI security officers who work at the 16 DMV locations in Connecticut provide more than security. In many cases, they are providing concierge services for people on their journey at the DMV.
Listed below are some examples of USI security officers who have been recognized for their service.
Officer Anthony Ramos – Norwich CT DMV
Officer Ramos was checking Covid-19 protocols for people who had appointments for the DMV. A women showed up who was not listed on the appointment list. She was upset and distraught and could not understand the mistake. Officer Ramos demonstrated special care and service by taking the women to an internal computer and showing her how to navigate the DMV system.
He also went over the forms that need to be completed so that when her appointment was made in the future, she would be ready. This woman submitted a letter to the state DMV thanking Officer Ramos for his professionalism in helping her that day.
Officer Shawn Machnicz – Bridgeport, CT DMV
A woman was taking her 96-year-old father to the DMV to obtain his Real ID. Officer Machnicz took special care with this elderly gentleman and escorted him through the line to a comfortable seat. He checked him into the appointment system and provided valuable answers to make sure the correct paperwork was completed.
Upon completion of their visit, he made sure they successfully got back to their car.  This man's daughter submitted a letter to the state DMV thanking Officer Machnicz for the extra care he showed her and her father.
Officer Orlando Figueroa – Danbury, CT DMV
A couple had been to the DMV to get their license renewed. The process went perfectly until they got home and realized the wife had left her purse at the DMV location. They rushed back to the DMV, but it was closed. As they were walking back to their car a security officer pulled up and asked if they had lost a purse.

Officer Figueroa proceeded back into the DMV to obtain the lost purse. After proper identification of the women the purse was returned. When the couple returned home there was a message from Officer Figueroa letting her know that her purse was found and secure. The couple missed this phone call as they had already left their home to return to the DMV. This couple submitted a letter to the DMV explaining the detail and effort Officer Figueroa went to make sure the couple knew the purse was safe.
Pictured from Left to Right: Officer Anthony Ramons, Officer Orlando Figueroa, and Officer Shawn Machnicz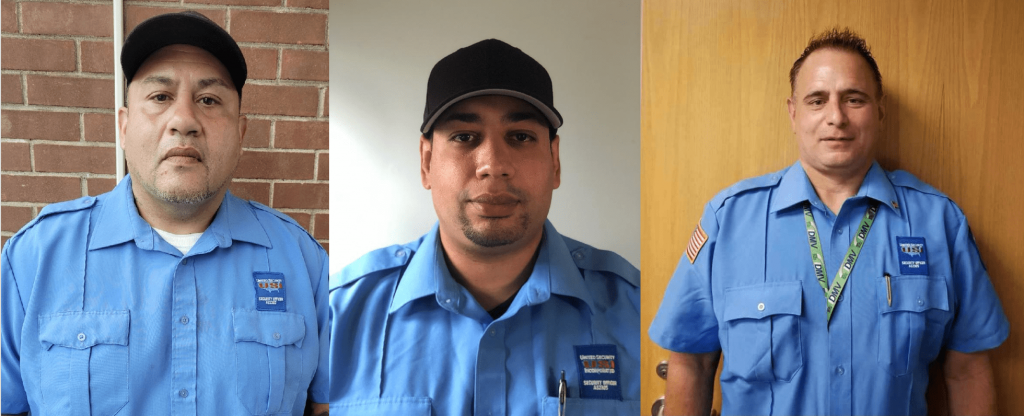 ---