October 2020 HR Corner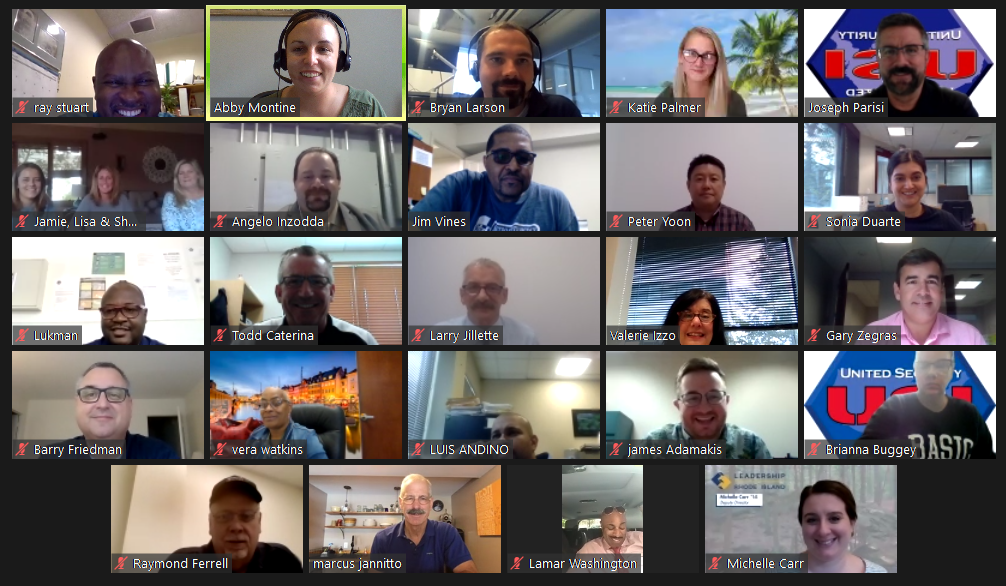 October 16, 2020
HR Corner
Valerie J. Izzo – Director of Human Resources
Office # (203) 353-3322
For the past two years, United Security has been pleased to partner with Leadership Rhode Island (LRI), a premier training organization that delivers Leadership Strengths Training to all levels of management across many industries.  USI is committed to providing training programs for our senior leadership, as well as corporate and operating managers.  LRI created a dynamic virtual training that allowed us to deliver training this year, even during the challenges of the pandemic situation.
In this specific training, LRI focuses on the strengths of the participants in the group, with each participant completing two surveys.  This results in the establishment the individual's Top Five Strengths, per the CliftonStrengths method.  LRI's training focuses on the results of the individuals and looks at the group results, as well, in order to expand upon the benefits of a group's diverse make-up, and the success that comes from establishing diversity in teams. USI also believes that focusing on the strengths of its senior managers and operating groups results in a stronger, more positive and more successful organization focused on the future for all employees.
This year, we conducted training for a group of Corporate, Regional and Operating Account Managers.  A total of 24 managers completed a 2-day session in June, and then three 2-hour sessions were completed in September and early October.
The sessions were held virtually, therefore, we were able to include managers from all over the company.  Marcus Jannitto of LRI led the sessions.  He is an outstanding presenter and an amazing person. He was supported by Abby Montine, also of LRI, and the 3 of us worked closely together to finalize what the training program would include for this group.
We covered many topics related to Leadership throughout the sessions.  Through the presentations, breakout sessions, and interactive discussions, we learned about the characteristics of great leaders, we discussed what makes a positive and "championship" culture, and we talked about the importance of meaningful recognition and reward in an organization.
We also spent time expanding upon understanding one's strengths and those of others, in order to successfully work together on a team across different departments within the organization. This training is focused on the positive – the strengths that each team member brings to the table, and the great success that will come from those interactions. Everyone experiences how their Top Five Strengths provided an exact picture of how they saw themselves – as well as how they can benefit from a strengths-perspective.  The comments that I heard most often about their individual reports was "spot on!"
Marcus shared many of his experiences as a leader in the military, his years as a coach, and now in his position at LRI.
Each session was excellent, with all participants sharing their thoughts in the group discussion and the smaller breakout conversations for collaborative solutions. Marcus had everyone engaged throughout the sessions in June and most recently in September and early October.  The participants got to know one another, and for those who had never met before, new connections were made and that was another positive aspect of this training!
The group gave rave reviews to Marcus and Abby for the training, and everyone came away feeling enthusiastic and energized by the content and the trainers.  Everyone said that they learned something, and the value of the training was very evident to everyone.
What was also very clear to the participants was that we at USI are so fortunate to be guided by great leadership, and to have senior leaders who care about their employees, who invest in them, and who focus on establishing a positive culture where the mission, vision and values are clearly stated, and where there is recognition and acknowledgement for hard work and commitment.
We appreciate the participants for taking the time from their busy schedules and day to day activities to be part of this valuable training, and to engage with one another and with the LRI trainers to create a meaningful program, where everyone benefited from the time spent together.
We look forward to working with LRI again in 2021, to bring this valuable training to the next group of managers, to continue this positive focus on training and strengthening our organization!
---